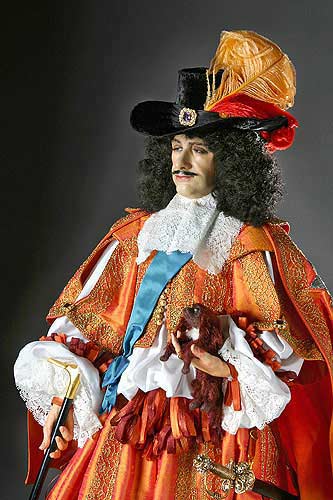 Welcome to the online journal detailing the activities of George S. Stuart, creator of the George S. Stuart collection of Historical Figures. The collection includes over 400 quarter life size figures of famous men and women in history. Mr. Stuart has nurtured a life-long love of history and art, building a scale model of the palace of Versailles when only a child. He began his formal studies of history and foreign relations at Georgetown and Washington Universities, eventually obtaining a Fine Arts Degree from the University of California. He has been a member of the staff of the Smithsonian Institution where he was responsible for the President's Wives exhibit.
Mr. Stuart taught himself to sculpt, work with metal, leather and cloth. After a decade of experimentation following his first Figure in 1953, he turned this activity into a full-time occupation. Mr. Stuart creates each of the figures along with its precisely detailed clothing, jewelry, shoes, weapons, and furnishings. Some of the Figures are housed at the Smithsonian Institution. The largest collection are displayed at a permanent gallery at the Ventura County Museum of History & Art which has a rotating exhibit of 190 of these Figures.
Today, he makes his home and operates his gallery in the Ojai Valley, situated in the northwest corner of California's Ventura County not far from Santa Barbara. He is Curator Emeritus of the Collection and serves as guest lecturer at the Ventura County Historical Museum.
Image copyright ©1985-2005 by Peter d'Aprix.